Some time ago, I appeared on the April 17th episode of "Her Dork World, His Dork World", a live radio show on the
VOC Nation Radio Network
. Show hosts
Dean Compton
and
Emily Scott
invited me on to take part in a discussion of Black Canary, her place as a superhero icon in comics, and her role in the gender dynamics of popular fiction.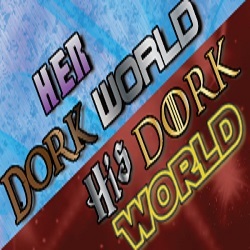 Although the interview was conducted and broadcast live to Thursdays ago, you can listen to an archived recording of the whole show at
PodOmatic
right here
, or download the podcast on iTunes by searching VOC Nation and the April 19th update of "Her Dork World, His Dork World."
The interview and thus my part of the episode begins at roughly the 15-minute mark, but I encourage everyone to listen to the whole episode because Dean and Emily have a nice discussion about female-driven stories and movies in the first segment, and they namedrop
Paul Dini
, the writer of the upcoming graphic novel
Black Canary/Zatanna: Bloodspell
.
I had a great time appearing on the show and talking Black Canary with two passionate and involved fans. Dean and Emily were wonderful, professional, and respectful hosts and they've made me a fan of not just Black Canary, but "Her/His Dork World". Check it out and enjoy the show!